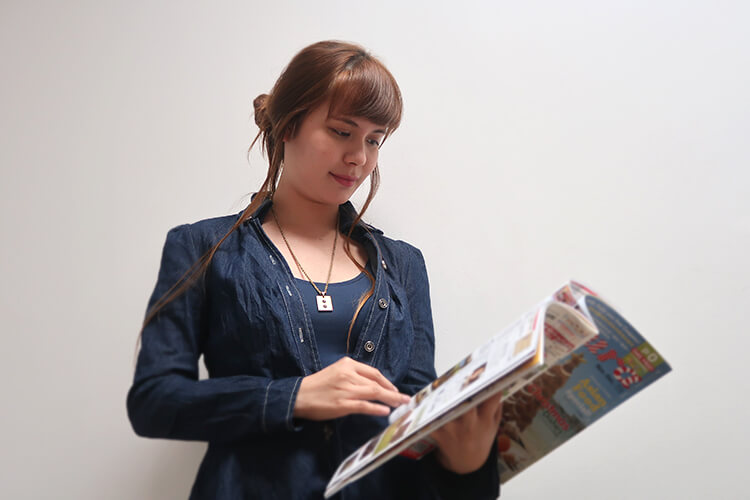 A friendly working environment that leads to a greater work motivation.

JKR

Team AK English/Communication Specialist- Academic/Advertising

2018年

Profile

Educational Background:
B.A Communication (Cebu Normal University) - Cum Laude
M.A Communication (Cebu Normal University) -completed units
Experienced in one-on-one and group classes
Expertise in General English, Grammar, Pronunciation, Technical Writing and Callan Method

入社動機

Career Development

I felt the need to sharpen my expertise and develop useful and applicable skills for me to explore what else I can do better.

業務内容・働き方

Teaching/Sakura Support

Teaching English language to students both offline and online/writing and proofreading write-ups/taking pictures/updating social media

仕事のやりがい

Passion

I like the job because it makes me feel more productive everyday.

仕事で大切なこと

Fulfillment

For me, it's really something very important in my job right now. If you get the job done, you feel great.

これからの目標

Focus on the quality

I aim to produce a great quality of my work.

<メッセージ>

これから応募しようとしている人に向けて

Join our dynamic team

We are so delighted to welcome you in our team! Together, let's make a development of our career and fulfill high for Team AK's goals.

※所属、業務内容は取材時の内容となります。
REQUIREMENTS

募集要項

人類社会の基幹が自動化される、新時代を創り上げるのは『夢、情熱、生み出す力』を備えた、仲間たちだけです。両極化する人材の、あなたはどちら側にいますか?一緒に創りましょう!この先の、健やかな未来を!

新卒採用 正社員採用 パート・アルバイト採用